MANILA - The Philippine Army (PA) on Wednesday announced the appointment of new commanders to two key posts.
In a statement, PA spokesperson Col. Xerxes Trinidad said Col. Ulpiano T. Olarte was appointed to command the 55th Engineer Brigade (EBde) deployed to Lanao del Norte while Col. Jason Jumawan was designated as the new PA assistant chief of staff for operations.
Olarte took over the 55th EBde's helm in a change of command ceremony held at the unit's headquarters in Balo-I, Lanao del Norte on Tuesday.
"Col. Olarte assumed as the new 55EBde commander succeeding Brig. Gen. Irineo F. Sebastian who will hang his uniform for the last time after a military career spanning nearly 36 years," Trinidad said.
Olarte served as deputy brigade commander of the Cebu City-based 53rd EBde before his new command.
He also served as the chief of the Real Estate Office of the Philippine Army's Installation Management Command; deputy of the Army Real Estate Office; and assistant chief of the academy staff for personnel of the Philippine Military Academy (PMA).
"Col. Olarte belongs to the Officer Candidate Course Class 11-1994 of the AFP (Armed Forces of the Philippines) Officer Candidate School. He is a registered civil engineer who holds a civil engineering degree from the Technological Institute of the Philippines. He holds two master's degrees: History from the Cebu City-based University of San Carlos and Public Management major in Development Security from the Development Academy of the Philippines (DAP)," Trinidad said.
Sebastian, Olarte's predecessor, held key positions in the 55EBde before becoming its commander in November 2020 after leading the unit in an acting capacity since June 2019.
"He also served as commanding officer of the Training and Doctrine Command's Headquarters and Headquarters Service Battalion and as command engineer of the Armed Forces of the Philippines Medical Center," Trinidad said.
Sebastian, a member of PMA Class of 1991, holds a mechanical engineering degree from Tarlac State University and a graduate diploma in Urban and Regional Planning from the University of the Philippines (UP).
Meanwhile, Jumawan, the new PA assistant chief of staff for operations, replaces Col. Alvin Luzon.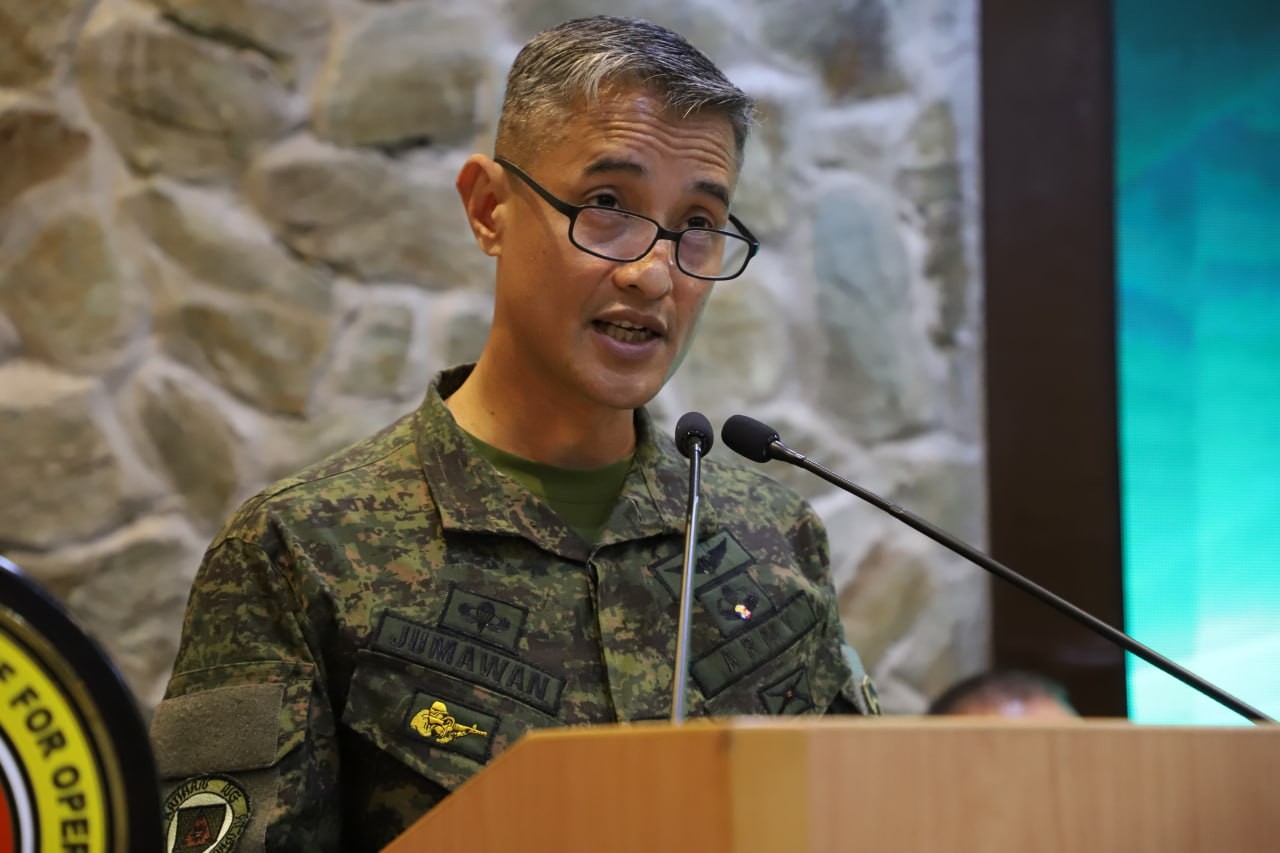 He served as executive assistant of PA chief Lt. Gen. Romeo S. Brawner Jr. and has held key staff positions at the AFP office of the deputy chief of staff for operations; commanding officer of the 82nd Infantry Battalion, 3rd Infantry Division; and executive officer of the 301st Infantry Brigade.
Jumawan is a member of PMA Class of 1995 and holds three master's degrees in National Security Administration from the National Defense College of the Philippines, Public Management from the DAP, and Public Administration from UP.
Luzon will now assume as Senior Military Assistant to Department of National Defense officer-in-charge Secretary Carlito Galvez Jr.
He is a member of PMA Class of 1994 and holds a master's degree in Business Administration from the University of the Visayas, a Master of International Security Studies from the Sydney-based Macquarie University, a master's in Public Management major in Development Security from the DAP, and a Master of Science in National Resource Strategy from the National Defense University in Washington DC, USA. (PNA)